Portugal Villas - Quintas - Manors - All accommodation inspected for quality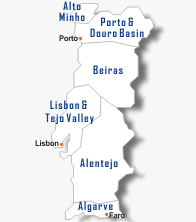 We are dedicated, independent travel specialists living and working in Portugal with a combined experience of over 50 years in the industry. We offer a very comprehensive range of self catering accommodation throughout Portugal and we know the properties, owners and country very well.

We have been offering villa accommodation in Portugal for over 15 years dealing directly with owners. We do not have any of the costs associated with tour operators so we can offer our clients very competitive rates. Our accommodation does not commit you to an airline or car rental company so you have the flexibility of creating your own vacation.

Arranging a holiday is a big decision, we want to help you to make the right choice and to make it a stress free experience. Our aim is to ensure you have a relaxing, enjoyable and memorable holiday in Portugal. With us you can book with total confidence knowing that :
Our selection is based on quality, location and value for money.
Only properties passing our rigorous inspection are included.
Properties are advertised without charge enabling us to add, or remove them, without financial consideration.
Your contract is with the owner or villa company.
Over 22,000 holiday makers have enjoyed our villas, click here to read some of their comments


Search for villas in Portugal