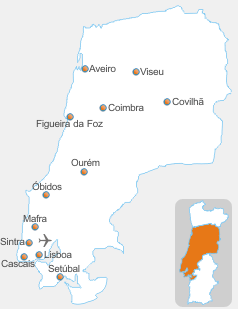 Central Portugal appeals to all tastes as it is an area of tremendous contrasts combining ancient and modern, sea and mountains, forests and plains. Here you will find ancient towns, villages, spa towns, roman ruins, castles, monasteries and convents which are testimony to the regions cultural and historic past.

This region is also rich in traditional arts and crafts including linen weaving, glassworking, ceramics, iron and copper smithing etc. Places of interest include Lisbon, the capital city with its famous buildings, the historic town of Coimbra which has a fabulous baroque library and houses Portugals oldest University.

Also, well worth a visit are the towns of Obidos, Sintra, Aveiro, Viseu and the beautiful Serra da Estrela Natural Park. Alternatively, you can enjoy the long sandy beaches backed by sand dunes, the inland high plateau and mountains dotted with old villages or, the wildlife reserves providing a wealth of flora and fauna.

Lisbon Coast has small, sophisticated south facing resorts while the western facing beaches are popular with surfers. Cascais, Estoril and Sintra all have regular rail connections to the city and make interesting alternatives. In the area around Lisbon there are also many famous championship golf courses.