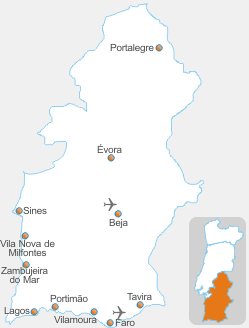 The Alentejo and the Algarve occuppy nearly half of Portugal stretching from the Tagus river in the north to the beautiful sandy beaches in the southern coast.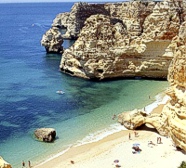 The Alentejo has large farms in rolling countryside which stretch as far as the eye can see, and very little population. Hilltop towns, often with a castle that has been converted into a hotel in the Pousada group. The western coast has long, sandy deserted Atlantic beaches. Evora (UNESCO World Heritage site), Estremoz, Arraiolos and Beja are some of the most important towns in the Alentejo offering history, hospitality, a gastronomy with a mix of flavours and some of the most famous wines produced in Portugal.
The Algarve has something to offer everyone, tempting golf courses on which international tournaments are played, superb tennis and riding and every watersport you can think of. There's an excellent choice of holiday apartments and villas. Walk through the busy local markets to choose from traditionally- made handicrafts such as matgrass baskets and rugs, beautiful hand-painted pottery and tiles, beaten copperware and intricate bobbin-lace. At night visit one of the many glittering casinos or clubs, or simply sit outside beneath the stars and sample some freshly-caught seafood.
There is much, much more to the Algarve than sun and sea. You can discover the remains of Roman towns, admire cool tiled churches and explore narrow winding side streets. Faro, international gateway to the region, offers lively cafes, smart shops, cobblestoned streets and grand houses with wrought-iron balconies. In the Cidade Velha - Old Town - you can browse around the 13th Century Cathedral and Bishop's Palace.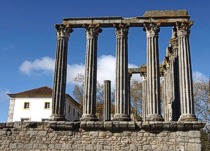 Moving west, the area around Almancil is best known for its prestigious holiday resorts. At the popular resort of Albufeira fishermen sit on the beach beside their colourful boats mending nets. Inland lies Lagoa - famous for its wines, Silves - with its red sandstone castle and battlements standing proudly against a background of mountains and Caldas de Monchique - a quaint Roman spa town. Lagos, on the coast, was one of the earliest settlements where Prince Henry the Navigator built his ships for the voyages of discovery.
To the east of Faro stretches the Ria Formosa, a nature reserve with a peaceful bird sanctuary. The beaches along this part of the coast are flatter, wider and more deserted. Olhao is a 17th Century town built in Moorish style and known for its lively indoor fish market. Further east is one of the Algarve's most elegant towns: Tavira.
The most convenient international airports are at Lisbon, Faro in The Algarve and Beja in The Alentejo.