Casa Sao Cristovao Overview
This beautifully restored house is situated on the Quinta da Portela farming estate. This large walled estate has extensive vineyards and also grows kiwi fruit.

The Quinta is located in the Minho region of Northern Portugal which is an area of river valleys, lush green terraced hillsides of vines and maize, dense forests of pine and eucalyptus, and granite mountains.

Eight kilometres to the west of the property is the Atlantic Ocean with golden beaches and crashing breakers, a paradise for surfers and windsurfers.

The historic old port of Viana do Castelo is 10 kilometres to the North. This beautiful town has narrow cobbled streets of balconied houses, a marina, and lots of good, inexpensive restaurants in which to sample typical Minho cuisine together with the local Vinho Verde wine.

Overlooking the town, on a forested hill, is the church of Santa Luzia. The view from this church has been described as "one of the most spectacular in the world".

Accommodation
Casa de Sao Cristovao offers excellent accommodation for a family, it is decorated and furnished in traditional style creating a welcoming and comfortable atmosphere for guests.

The ground floor has a through sitting/dining room with plasma television and with comfortable seating around an open fireplace and a dining table seating eight people.

Two double doors open onto a terrace which has been converted from an area formerly used for drying maize.

There is a fully equipped kitchen with breakfast table, gas cooker with oven, microwave, fridge/freezer, dishwasher and washing machine.

There are 2 twin bedrooms and 1 double bedroom, all with ensuite bathrooms. There is also a small bunk bedroom with ensuite bathroom.

There is a suite on the first floor comprising a second sitting room, double bedroom and bathroom.

Outside
There are lawns set with plants and kiwi trees providing natural shade. There is also a terrace with barbecue and garden furniture.

The swimming pool (8m x 4m with a depth of 1.2 m to 1.8 m ) is set in a large tiled area with sun loungers and umbrellas. The pool is for the exclusive use of guests at Casa do Sao Cristovao.

Location
This house is ideally situated for exploring the Minho region, the Peneda-Geres National Park, the walled town of Valenca and, Vigo, Baiona and Santiago de Compostela in Spain. Also, the Portuguese cities of Braga, Guimaraes and Porto.

A trip to nearby Barcelos market is not to be missed. Held every Thursday, it is one of the largest in Europe. You can buy anything from a pair of socks to a yoke for your ox and, it is a great place to soak up the true market atmosphere and practice your haggling skills.

There are a number of excellent golf courses in the area.

The recently expanded airport at Porto is within easy reach by car. Low fares to this airport are now offered by a number of airlines.

Local festivities are held on the last weekend of July.

For larger groups, Casa Santa Margarida is close by and can accommodate a further 6 persons.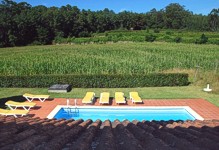 - 4+1 Bedrooms
- 5 Bathrooms
- 2 sitting rooms
- Satellite television
- Fully equipped kitchen
- Gas cooker with oven
- Microwave
- Fridge/freezer
- Dishwasher
- Washing machine
- Lawns
- Terrace with barbecue
- Swimming pool
- Table football
- Electric radiators for heating
- Near beaches
- Nearest airport: Porto
- Nearest motorway: A28
- Nearest beach: Amorosa 10 kms
- Map
- Comments on villas