Casa Olival Overview
Built to the highest standard this beautiful house is superbly located in the Minho region with views down the Lima Valley to the mountains beyond.

The walls of this former agricultural property have been retained to create an imposing residence with a divided staircase going up to a first floor balcony overlooking the entrance hall.

The garden, created from a former olive grove, offers views over the vineyards in the river valley and towards the high lands of Serra d'Arga.

Casa do Olival is furnished to very high standards and, with great attention to detail, providing elegant and very comfortable accommodation.

For winter visits the house is centrally heated with a supplement payable.
Accommodation
There is a large open plan area with an entrance hall, sitting area, alcove featuring a card table and, separated by a wrought iron screen, the dining area.

There are three doors leading to a covered patio outside.

There is a fully fitted kitchen with cooker, microwave, dishwasher, toaster, coffee machine etc and, a laundry room with a washing machine.

There is also a downstairs bathroom.

There are 4 double bedrooms all with televisions. 2 bedrooms feature double beds and both have an ensuite shower room. The other 2 bedrooms each have twin beds and both have an ensuite shower room.
Outside
There is a covered patio, overlooking the pool, with a built-in barbecue for dining alfresco on sunny, hot days.

The swimming pool is 10 metres by 5 metres and the depth is from 1 metre to 2 metres.

There are lawned areas with sunbeds and umbrellas in which to enjoy the wonderful views in total privacy.
Location
If you are feeling energetic there is a badminton net in the grounds. There is also a parking area.

1 kilometer from the house is a restaurant and mini-market. The historic market town of Ponte de Lima is 8 kilometers away.

Casa do Olival is ideally located near modern fast roads leading to the old sailing port of Viana do Castelo, the Peneda-Geres National Park, the walled town of Valenca and, Vigo, Baiona and Santiago de Compostela in Spain. The Portuguese cities of Braga, Guimaraes and Porto are to the south, also by motorway.

Ponte de Lima golf course has been described as 'championship golf at municipal prices' is a few kilometres from the house and also has an excellent restaurant.

The recently expanded airport at Porto is within easy reach by car. Low fares to this airport are now offered by a number of airlines. Alternatives, are the Spanish airports of Vigo and Santiago de Compostela which are reached by motorway.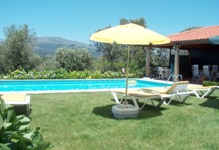 - 4 Bedrooms
- 4 Bathrooms
- Fully fitted kitchen
- Cooker
- Microwave
- Dishwasher
- Washing machine
- Television
- Video
- Cassette player
- Barbecue
- Badminton net
- Elegant, comfortable property
- Finished to very high standards
- Superbly located
- Golf course nearby
- Easy access for sightseeing
- Nearest airport: Porto
- Nearest motorway: A3
- Nearest beach: Viana 23 kms
- Map
- Comments on villas