Quinta de Nabais Overview
This 16th Century house has been transformed over the years to create a luxury holiday villa offering many facilities including large well kept gardens and woodland.

The house is in the Lima valley, Costa Verde, in the North of the country, considered by many to be the most beautiful area of Portugal. The valley is divided into very small fields (too small for a tractor!) which are surrounded by stone walls. Grapes for the local Vinho Verde wine grow around the edges whilst the centre is used for maize or cabbages.

The old Roman town of Ponte de Lima, situated 8 kilometres away, is famous throughout Portugal for its small restaurants where you will find good food served with excellent Portuguese wines.
Accommodation
Quinta de Nabais has 6 bedrooms all with en suite shower room. Three of the bedrooms have a double bed, two have twin beds and one has a single bed.

There is a reading lounge upstairs which has doors leading out onto the balconies which provide a peaceful and relaxing atmosphere.

The open plan lounge and dining room is complete with a very large table which is ideal for entertaining large groups in cool evenings, heated by the pleasant fireplace.

The kitchen is, as you would imagine, traditional in style and is fully equipped with modern appliances.

Quinta de Nabais also has a downstairs cloakroom.
Outside
Quinta de Nabais is surrounded by extensive grounds and has a large swimming pool with a basketball hoop and a water polo goal.

In the grounds there is an outdoor self catering dining area with stone tables and benches, shaded by mature trees - spectacular in summer.

A separate modern kitchen is located in a covered area near the swimming pool. This kitchen has a hob, oven, refrigerator, dishwasher, microwave, coffee machine, kettle and separate cutlery and crockery. It also has a barbecue.

For small children, there is a small play area near the swimming pool with swings etc. There are also bicycles and other sports equipment at the house for the use of guests.

Tennis rackets are provided for use on the floodlit tennis court (metered electricity extra) however, serious players are advised to bring their own rackets.

Attached to the Quinta is the private chapel where the owner, his family and the estate staff used to worship. It is still used for marriages and christenings in the family
Location
The quinta is ideally located near modern fast roads leading to the old sailing port of Viana do Castelo, the Peneda-Geres National Park, the walled town of Valenca and, Vigo, Baiona and Santiago de Compostela in Spain. Braga, Guimaraes and Porto are to the south also by motorway.

Ponte de Lima golf course has been described as 'championship golf at municipal prices' is a few kilometres from the house and also has an excellent restaurant.

The recently expanded airport at Porto is within easy reach by car. Low fares to this airport are now offered by a number of airlines. Alternatives, are the Spanish airports of Vigo and Santiago de Compostela which are reached by motorway.

For very large groups there is another house, which is just across a small lane and opposite Quinta de Nabais, Casa Olival which can accommodate another 8 people.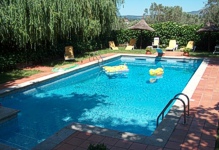 - 6 Bedrooms
- 6 Bathrooms
- Television and Video
- Half size snooker table
- Washing machine
- Dishwasher
- Microwave
- Large well kept gardens
- Outdoor swimming pool
- Outdoor kitchen
- Covered dining area near pool
- Barbecue
- Floodlight tennis court
- Table tennis
- Table football
- Adventure Playground
- Volleyball net
- Basketball hoop
- Golf nearby
- Central heating (supplement)
- Nearest airport: Porto
- Nearest motorway: A3
- Nearest beach: Cabedelo 23 km
- Map
- Comments on villas