Upper Roma Overview
Hidden away on the edge of the village, this charming restored farm house provides delightful views across a patchwork of fields and the river Ancora to folds of wooded hills beyond. It offers an exceptional location for a restful holiday in bucolic surroundings.

Upper Roma is a two storey house built in local stone, dating from the mid 19th century, and retaining many original features, including a huge beamed hearth and traditional bread oven. It provides the amenities and confort to be hoped for in a country cottage full of character.
Accommodation
The main entrance is from the upper floor which has a spacious "L" shaped open plan living / dining room that features the traditional bread oven, and a fully equipped kitchen. There are extensive views to the area surrounding the property.

The bedrooms are on the lower floor. There are 2 double bedrooms, one with ensuite bathroom, 1 twin bedroom with ensuite shower room and a single room with a pull out bed suitable for two children. There is an independent bathroom.

Close to one of the entrances there is also a room with a washing machine and a freezer.
Outside
On the upper level there is an extensive graned mount girded by olive and fig trees, backed by vines and enjoying the best of the outstanding views.
A paved patio offers another peaceful setting to enjoy a sundowning or a meal.

The garden extends to the other side of the house at a lower level where there is a traditional corn store and threshing floor.

Plenty of space exists for car parking, including within the walled vine shaded courtyard.
Location
Casa Upper Roma is a few kilometers from Vila Praia de Ancora, a small fishing town on the coastline with a long crescent beach of golden sand and harbour. There are a number of supermarkets and a great choice of restaurants and bars nearby as well as a disco.

About 10 kilometers to the North, the town of Caminha is famous for its great nightlife, mainly on weekends. The main square is the local point for entertaiment.

Also well worth visiting is the historical town of Viana do Castelo, approximately 15 kilometers away. Not to be missed, is the Santa Luzia basilica, on the top of the hill, from where visitors can enjoy from one of the most beautiful views in Europe. It possesses many places to eat and pavement cafes.

Between the hill and the town's centre there is a shopping center.

Also nearby are Ponte de Lima and the old fortified town of Valenca overlooking the river Minho in Spain. Less than an hours drive away is the Peneda-Geres National Park, also in the border with Spain.

The recently finished motorway gives easy access to the Galicia region in Spain and to Porto and Douro wine region, at about 80 kilometers away.
Other features
A generous welcome pack is offered, more than enough to provide a starter meal. Also, a hot meal can be delivered to the door if ordered in advance (cost with wine - around 15 €).

The owners are British and live nearby. They have extensive knowledge of the region and are always pleased to offer helpful advice and can also show the best swimming spots in the nearby river, or lead a walk to give an insight into this beautiful surroundings.

Casa (Lower) Roma is the only other property nearby and is completely separate. Although Upper Roma is totally independent it can also serve as over-flow accommodation for large groups, with the pool then available for both houses.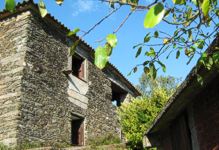 - 4 Bedrooms
- 3 Bathrooms
- Garden
- Garden furniture
- Music centre
- Equipped kitchen
- Oven
- Hob
- Microwave
- Toaster
- Refrigerator
- Washing machine
- Barbecue
- Bicycles
- Nearest airport: Porto
- Nearest motorway: A28
- Nearest beach: Ancora 11 kms
- Map
- Comments on villas