Quinta da Valinha Overview
Quinta da Valinha has been owned by the same family since the 17th century. It has been restored recently to provide delightful self catering accommodation with modern facilities.

The Quinta enjoys splendid views over the River Minho and the acres of vineyards from which the famous Alvarinho verde wine is produced.
Accommodation
The main entrance is located on the first floor with direct access to the open plan lounge / dining room. The lounge has TV, sofas and a fireplace and a dining area with seating for up to 12 people. From the dining area there are wonderful views over the river which are so beautiful they have been compared to a painting, the perfect place to relax over an evening meal.

The modern kitchen features a traditional Portuguese oven decorated with antique dishes. It is fully equipped with hobs, cooker, fridge/freezer, microwave, dishwasher and a toaster. Next to kitchen is the laundry room with a washing-machine.

The 5 bedrooms are all located on the ground floor. They all have an ensuite shower room. Each bedroom is decorated with a different colour tone which gives its name to each room. Two bedrooms have a double bed and three have twin beds.

On the same floor there is a lounge area with TV.

The house is centrally heated.
Outside
The pool, which can be seen from the house, sits on a wide terrace and also enjoys the magnificent views over the surrounding countryside. The dimensions are 12 by 6 metres with a depth of between 1,50 and 2,50 metres.

Nearby, is the tennis court.

There is also an 'espigueiro' which was originally used for the storage of grain and cereals.
Location
There is a restaurant only 600 meters away from the villa which is recommended by the owner of Quinta da Valinha.

The old fortified town of Moncao, located on the left bank of the River Minho, is ten kilometres from the house. On the other side is the Spanish town of Salvaterra de Mino. Moncao has plenty of restaurants where the main specialities are salmon trout and lamprey.

There are many interesting and delightful places to visit in the area which are well worth a visit, the walled border town of Valenca, the historic towns of Viana do Castelo and Ponte de Lima and also, Baiona in Spain.

Portugal's only National Park, Peneda Geres is half an hour away and borders Spain. This remote and unexplored mountainous wilderness is ideal walking country with breathtaking views.

The nearest airports are Vigo in Spain and Oporto (Porto) in Portugal.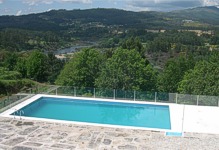 - 5 Bedrooms
- 6 Bathrooms
- Television
- Hob/oven
- Fridge/freezer
- Dishwasher
- Microwave
- Washing machine
- Central heating
- Swimming pool
- Tennis court
- Nearest airport: Porto
- Nearest motorway: A3
- Map
- Comments on villas