Casa Amarela Overview
Quinta Amarela is located in the upper Douro Valley region, one of the most unspoilt areas in Portugal, classified by UNESCO as a World Heritage Site.

The house is part of a 135 acres vineyard property, owned by a family that has been shipping Port Wine since 1815.

The house is just a few minutes walk from the river Douro. Fishing is possible in the river and there is a quay suitable for those who wish to have a boat trip.
Accommodation
On the main part of the house there are two twin bedrooms and one double bedroom, all having en-suite bathrooms/shower rooms.

There is a large sitting room and a dining room with a door leading to a kitchen equipped with a washing machine, a fridge and a dishwasher.

Next to the house there is an annex with one double bedroom, one twin bedroom, both with en-suite bathrooms/shower rooms, and a living room.

Quinta Amarela has an interior courtyard with a shaded patio, a barbecue and a private swimming pool measuring 8 by 4 metres. Sun loungers can be provided.
Outside
The surrounding area of the property is very quiet and peaceful, perfect for a restful holiday and to explore sites such as Roman remains, castles and palaces.
Location
The picturesque railway trip on the banks of the Douro River should not be missed during the holiday.

From the house there are some magnificent views and during the warmer months, vine covered patios provide a pleasant shade.

This idyllic location is very close to some interesting villages such as Pinhao, Vila Real and Alijo.

In Pinhao there are many restaurants, bars and cafes but apart from occasional local festivities there is no night life.

Quinta de La Rosa serves dinner upon previous request.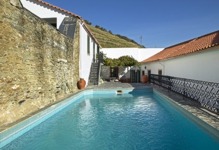 - 5 Bedrooms
- 5 Bathrooms/shower rooms
- Patio
- Swimming pool
- Barbecue
- Equipped Kitchen
- Washing machine
- Fridge
- Dishwasher
- Nearest airport: Porto
- Nearest motorway: A4
- Map
- Comments on villas